Emergency Roof Repair Toronto
Everything will seem fine until you notice a roof leak or a damaged roof out of the blues. To many, it can be a hard thing to deal with. But those who have the right team at their beck and call always get through these moments. Flat Roofs Toronto is one of the best companies in Toronto that offers outstanding roof repairs.
99% of flat roofs will, one day, suffer leaks, and if left unchecked, can damage the actual structure. If you have a flat roof, whether residential or commercial, it will leak soon or is currently leaking. Who do you run to when you experience emergency leaks? Remain calm and call the best team.
Damages that require repairs can be traumatic. In fact, what you see as a homeowner seems so worse than what a professional sees. At this point, you need to remain calm and not panic. You just need a professional emergency roof repair expert in Toronto.
Emergency Roof Repair & Fastest Response
At Flat Roofs Toronto, we realize that repairs, just like the name implies, requires swift action. We recognize how traumatic this situation could be, so we jump in and deliver like it's our property. Once we arrive at your space, whether commercial or residential, we take time to inspect the area, find the exact damage, and any additional issues that may need our expert attention. Depending on the level of damage, you may need to move out somewhat so our experts can work on your roof correctly.
Our flat roof installation experts know their jobs so well that repairs become so easy for us. We don't claim to know it all when it comes to any roofing project, but we dominate flat roof installations and repairs, and we take pride in that. Whenever you're looking for a reliable flat roofing team in Toronto to handle your Urgency repairs inToronto tops the list.
Signs that you need Emergency roof repair
There are various reasons that you need an roofing repairs company for residential commercial:
Missing Shingles.
Generally, hail storm damage, wind, ice, and snow, and other rugged weather conditions cause the nails to come out from the shingles which lead to loose shingles.
Shingle Pops up
If you see that roofing shingles are popped up above the surface, then it is an indication that it is damaged and has inadequate attic ventilation. Not only that, shingles can blister.
Water Stains
If you find traces of water stains in the roof decking, this is a sign that your roof decking has leakage.
Excessive Granule Loss
If there are small piles of gray or black granules found in the rain gutter or piled up in downspouts, then this is the sign of failed shingles of the roof.
Roof Age
Most of the roofs are built to last approximately 25 years. If your roof age is nearly 20 years, measure the condition of the roof and prepare to replace it.
If you see the above signs, do not delay for roof replacement. Hire the best 24 hour Roof Repair company for your roof.
If the repair work is delayed, you may face much more damage which may lead you to cost more. Such as:
If the roof leak is ignored due to ignorance, water can pile up in the roof decking. It will weaken the structure along with the roof.
Insulation will soak up a lot more water and it will stop doing its job. As a result, it will grow mold which is very bad for human health and will increase the energy costs.
If the water leakage comes into contact with the electrical wire, it will become a life threat.
What Causes the Roof Leakage
There are numerous factors which can cause roof leakage. Such as:
Fallen tree branches
Irregular maintenance
Cracked and missing shingles
Cracks or blisters on the roof
Installation defects
Minor or major damages in the valleys, chimney, pipes, vents.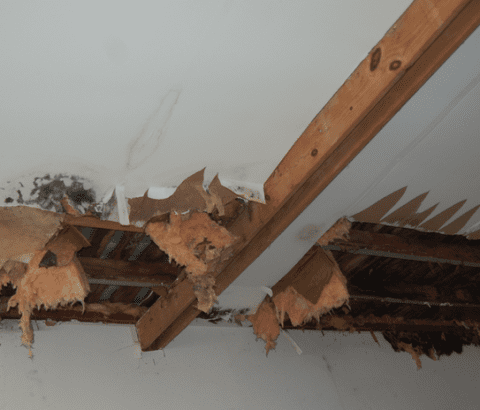 Quality Materials for Emergency Repairs
At Flat Roofs Toronto, we believe that new roof installations and repairs require the best quality materials. Whether it's a temporary repair or permanent repair, we handpick the best quality materials and draw on our expertise to deliver applaudable services.
When we handle your roof repairs, we ensure that you'll not have any need to re-roof or repair your roof again in a long time. Flat roofs are a great option for residential and commercial properties. When you go for it and require immediate repairs over time, Flat Roofs Toronto will come to your aid. Get in touch with us now.
Why choose us for Urgent Roofing Services
Here are the benefits from our Emergency Roof Repair Services:
We provide our roof repairing services at a very affordable cost and there is no hidden cost. We do not suggest work more than you require.
We have professional roofers who have expertise in roof installation and repair works.
We always use the best roofing materials to provide the best quality and have our continual staff training sessions to maintain the workmanship quality.
We have an uncompromised safety program for protecting your well-being and property of our customers and staff.
We prioritize your concern and recommendations to give you maximum satisfaction.
Roof repairing mostly depends on the material, age, size, and damage of the roof. We will first assess the condition of the roofs and then we will give the recommendations. If the damage is not severe, then we will go for repair. If the damage is significant, then it will be wise and economic to replace the roof. Here are the steps for emergency roof repair:
Controlling the exit of the water
If the water resides inside of the building, then it will be dangerous and can cause severe damage. To protect from water trespass, flat roofs Toronto is always ready to provide emergency roofing services. Our expert team is highly experienced in this job.
Removal of stagnated water
Standing water is the biggest enemy of the roof. It can cause catastrophic flat roof damage. It can cause the mold to grow as well. So it has to be removed. We will remove standing water in the process.
Trace the sources of leaks
After removing the stagnated water, we will examine the roof to trace the leakage. The leakage in roofs is not always limited to the damage. The leakage can be found from anywhere. We will try to discover the leakage from different places so that we can fix it and the roof can defend itself for more years from the damage. Leave your worries to us, flat roofs Toronto will do the extensive assessment of the whole roof and we will do the emergency roof repair wherever needed.
Repair of the roof
After all the inspection and initial damage control work, we will go for the repairing work. We will try our level best to work with the same roofing materials for repairing the damage.
Flat roofs Toronto provides 24/7 urgent repairing services 365 days. Contact us today for any kind of roof repairing work you needed.
Are you ready for an outstanding flat roof installation or repairs?
Kindly get in touch with us now!